CNC Plywood Hull Kits are now available for selected designs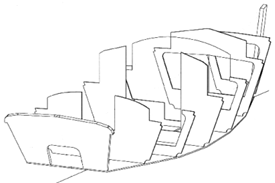 After converting to Computer Aided Drafting (CAD) several years ago it became apparent that it is possible to take design information (parts) and provide them to a Computer Numerical Controlled (CNC) cutter for Computer Aided Manufacturing (CAM). This benefits builders by eliminating lofting and speeds up construction. It is easy to get started. So, for selected designs, we offer precut parts that ensure a quality hull ready to assemble in short order. You will save many hours of lofting and setup time with these kits.

CNC plywood Hull Kits are available ready to Stitch and Glue together or as a starting point for Glue and Screw construction. The construction choice is yours. This makes construction quick and easy, ready to finish out. Hull Kit's features include:

Precision cut plywood hull panels no lofting is required
Quality BS 1088 Merranti or Okoume plywood
Pre-scarfed panels with new self aligning step scarfs
Pre-drilled stitch holes where required
Contour cut rudders and centerboards that are easy to shape
Piece marks with key drawing for easy part identification, Booklet "Boat Building With Plywood and Epoxy" with step-by-step instructions
Construction Plans to complete the rest of the boat
At this time, we are offering plywood hull parts only. Hull Kits consist of frames, bulkheads, transom, sides, bottom and selected parts such as motorwells sheerstrakes, rudders and centerboards and skegs depending on the specific kit. Sources of lumber, epoxy and related materials can be provided. This saves you considerable pass through, handling and shipping charges especially for the larger boats we offer as Hull Kits. The cost to complete the boats is approximatly 50% of the Hull Kit price for smaller open boats and 100% of the Hull Kit price for larger boats with cabins and interiors. Material cost to complete includes structural lumber, decks, interiors, epoxy and fiberglass. Sails, power and systems are additional.

Link to Hull Kit Pricing.

So get a jump on construction and be underway soon!