New Bookstore

with e-books to purchase and other free downloads with helpful information on boatbuilding and design selection.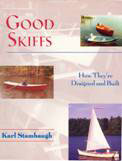 Good Skiffs

– Written by Karl Stambaugh with contributions from numerous skiff designers including Atkins, Bolger and more. Originally published softbound by Devereaux Books, this out of print book is now available as an e-book for purchase and download.  This book covers a wide range of rowing, sailing, and power skiffs in traditional and modern construction techniques.  In these electronic pages, you will find many informative chapters from how to select a skiff for your intended use to tips on how to work with epoxy construction methods. There is a chapter with Free Boat Plans for the Weekend Dinghy including step-by-step assembly instructions.

| | | |
| --- | --- | --- |
| Purchase Good Skiffs E-book for $25.00 | | |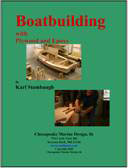 Boatbuilding with Plywood and Epoxy

–

Written by Karl Stambaugh, this successful how-to booklet is now available as an e-book for download.  Based on the construction of the Redwing 18, this updated version now includes construction photos and photos of completed Redwing 18s. This e-book has the instructional information for first time builders or those unfamiliar with stitch and glue or glue and screw construction techniques. This e-book addresses the first time builder's question of "What do I do first" to build a boat.  Applicable to other boats.

| | | |
| --- | --- | --- |
| Purchase Boatbuilding E-book for $15.00 | | |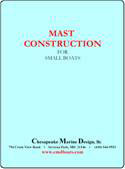 Mast and Spar Construction for Small Boats

–

Written by Karl Stambaugh, this new e-book is an illustrated text on the simple (once you understand the technique) process of making masts and spars for small boats.  Answers the "What do I do first" questions for first time builders.

| | | |
| --- | --- | --- |
| Purchase Mast Construction E-book for $10.00 | | |
Free Informative Downloads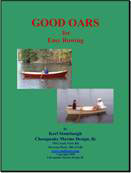 Good Oars for Easy Rowing

–

We feel so strongly that the right set of oars is essential for easy enjoyable rowing we are offering this e-book for free.  These helpful notes on oar making provide the basics for getting started on a custom set of oars.  Free oars plans are included.  This write up comes with a list of sources for Culler pattern oar plans and related construction articles.

Click here to download the helpful notes on

Good Oars E-book -

$Free$
*

To Vee or Not to Vee

– Here is the designers perspective on this often asked and most often misunderstood question. Free download.



Click here to download the

Vee

notes on E-book $Free$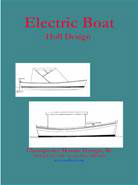 Electric Boat Hull Design –

Proper hull characteristics are essential for efficient application of electric power.  Learn what it takes to have an efficient hull and more. Written by Karl Stambaugh.  Free download.

Click here to download the

Electric Boat Hull Design

notes on E-book - $Free$
More Recommended Reading
*

The Gougeon Brothers on Boat Construction -
Good reference on boatbuilding with epoxy and related products. -- Gougeon Brothers, Inc.


Copyright Statement: All rights reserved. The copyrights for the book Good Skiffs belong to Devereaux Books.  All designs, text, graphics, look and feel of this site and all eBook publications, photographs and illustrations are owned by the Author. No part of this publication may be reproduced in any form by any means, electronically, mechanical, recording or otherwise without the written permission of Karl Stambaugh of Chesapeake Marine Design, LLC. Copyright 2008.